SMALL BUSINESS
FINANCE
FOR THE
BUSY
ENTREPRENEUR
BLUEPRINT FOR BUILDING A SOLID, PROFITABLE BUSINESS
Are you needing to make more money, save time, and reduce stress in running your own business? Sylvia Inks, Small Business Finance Coach, specializes in helping small business owners understand the key components that have the biggest impact to creating and maintaining a profitable business.
If you are an entrepreneur, and you are not making the profits that you want and need in the business, don't fully understand the numbers in running your business, and are wishing you could get a better handle on the finances in order to spend more time with your family, this book is for you.
You are not alone....and there is a solution.
What many seasoned business owners wish they had known that would have saved them hours of learning the hard way.
How to keep more money in your business...and stay in business!
How to organize your small business finances and be better prepared for tax season.
Get lots of bonus material, including links to references and templates in the book via online hidden chapters.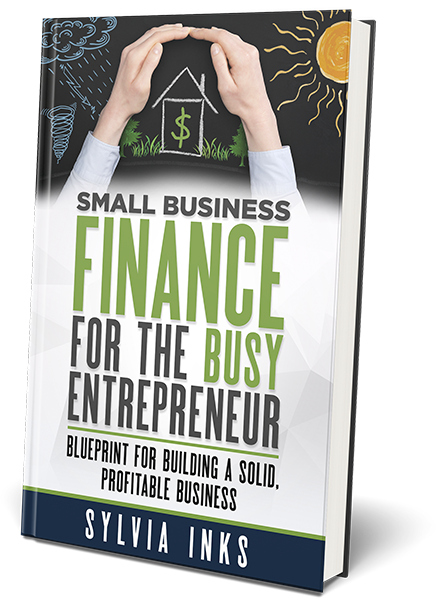 Small Business Finance for the Busy Entrepreneur is the book I wish I had read when I started my business a few years ago. It would have saved me lots of time and money, and lessened the headaches from managing both my personal and business financials. If you're looking to start a business or have been in business for a couple years, read this book to get your financial house in order. Sylvia does an amazing job creating a go-to resource for the busy entrepreneur.

Jason Vitug

Founder at Phroogal and bestselling author of You Only Live Once: The Roadmap to Financial Wellness and a Purposeful Life.

As someone who considers herself financially-savvy, starting my business after leaving corporate was still an eye-opener. If I had read Sylvia's book, I would have saved even more money and a lot of time figuring out how best to organize and manage the financial side of my business. This book is a very valuable investment. It's never too late to get started on the right financial path for business success.

Marcey Rader

Productivity and Health Coach, bestselling author of Beyond Travel: A Road Warrior's Survival Guide.

Sylvia Inks has created an important resource for business owners of all types, for entrepreneurs and for students of Business Planning alike. This well-written, well-edited "how to" book provides coverage on a number of important business topics that are not specifically covered in most introductory books on this topic.

Jim Joyce

President, Sales Partners, Inc., Instructor, Coach Business Planning

While I wish I had this book five years ago, I am more ready now than ever before, to follow the very simple steps and action items in Small Business Finance for the Busy Entrepreneur. I found the case studies provided an additional way to understand the basic concepts, inspiring me to make thoughtful decisions...and that it's never too late! Thank you Sylvia Inks for this work. I'm grateful and so will many be.

Leslie Flowers

Managing Member, Leslie Flowers Enterprises LLC

My small business has survived and thrived for 14 years using many of the business principles and practical insights Sylvia Inks shares in Small Business Finance for the Busy Entrepreneur. Unfortunately, I learned my lessons the EXPENSIVE way through the school of hard knocks! I could have paid 10x the cost of this book and still considered it a bargain to get these lessons up front. If you're a small business owner, make an investment of time and money to read this book. Your bank account and your peace of mind will thank you.

Chad Carson

As a busy entrepreneur myself, the last thing I want to do is stop down to research the hard-to-find answers to those difficult business finance questions. Sylvia's done us all a great service by compiling the knowledge and putting this blueprint together. Grab your copy and never be lost on your way to business success!

Philip Taylor

FinCon Founder